When asked, "How was it?" I feel a little awkward replying, "Great!" But it's true. Going to Louisiana was great, and I'm honored that I was able to be among the first to physically represent hope and restoration to families facing their darkest hour. Yes, the destruction is massive. But not all is lost.
Volunteers from across the country responded to the disaster, working under the covering of organizations like Operation Blessing International. Our particular group is a disaster response team that often partners with such larger organizations. We train to respond to emotional needs as well as take care of the practical clean up. We spent our days sweating, stinking, and singing together…ripping out moldy dry wall, pulling nails, and bringing hope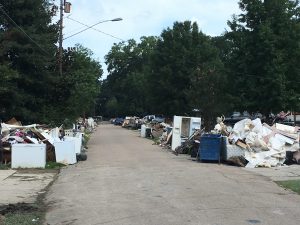 to a desperate situation. Volunteers from other organizations couldn't understand, at first, why we were happy and took time to talk with homeowners in the middle of such devastation, but eventually they realized nothing could replace connecting heart to heart with those who had lost everything. In the words of Jimmy Buffett, "if we couldn't laugh, we would all go insane." Laughter was a true gift to us as a team, as we found joy and humor and miracles in the midst of all that had been lost.
Several homeowners told us they would have walked away from their homes and counted it a loss if we had not been there to help. Another, who had a birthday while we worked on his house, shared that having us come to help was the best gift he could have received. Treating this man, his wife, and
their 3-year-old grandson to something sweet and a few gifts was just one of the blessing we received by doing what we could as they put one foot in front of the other to rebuild their lives.
Contrary to reports that 40,000 homes were destroyed by the floods, the actual figure is more than 100,000. The media has moved on to other news now, but our Louisiana neighbors remain in great need. Recovery will take months, if not years, and OBI will remain on the ground until every work order is filled. If you are able to volunteer, whether for a weekend or a week, please contact me for details at o[email protected]. Many thanks for your love and support!
 ~Olivia